Having trouble deciding how you would like for your guests to RSVP to your wedding day? Check out our positives to responding online compared to mailing the couple an RSVP card, brought to you by our Marketing Director, Sarah! Then, you can decide which option works best for your big day.
We all know that technology becomes more powerful and useful each and every day. According to Wedding Wire's 2019 Wedding Report, 80% of wedding planning is done online, and 39% of those people also use their mobile phone while planning. With apps like Wedding Wire and The Knot, thousands of venues and vendors are at couples' fingertips. It only makes sense that changing the way guests RSVP is becoming digital as well.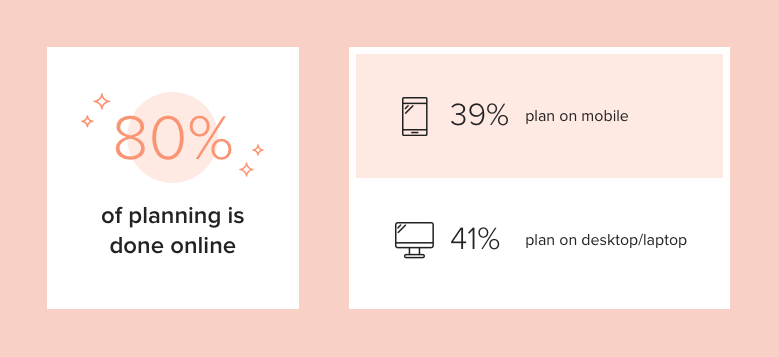 Two Reasons to Have an Online RSVP on Your Wedding Site
Perhaps the biggest benefit to asking guests to RSVP online through your wedding site is the fact that they can only RSVP for themselves. They will not be able to add someone to their RSVP because the names have been entered by you. This is helpful when there are guests you want to invite, but do not want a plus one added to your guest count. Online RSVP prevents that from happening.
A second benefit to online RSVP summarized in one word: postage. Who provides the stamp to mail back your RSVP card – you or the guests you are inviting? By having guests respond via your wedding website, the need for additional postage if you decide to provide it for guests is eliminated. This also helps those few guests who forget to mail their RSVP in time – they can simply reply via their phone!
Two Reasons to Have Guests Mail an RSVP Card
Want to keep things traditional for your wedding? Having guests mail in their RSVP card is the way to go! It's also exciting to get the RSVP cards in the mail, and seeing who is responding versus only an email when someone new responds online.
Another positive aspect of mailing RSVP cards is there are many companies today who provide an "all-in-one" wedding invite, where the RSVP card is detachable from the invite. This makes it easy to mail, and even simpler for guests to send back because the entire invite is all together. Mailing an RSVP is also easier for guests who are less familiar with technology and the internet. You can view invites like the one pictured below by clicking here.
Your Wedding Day, Your Way!
No matter which RSVP method you prefer, remember it is a day celebrating you and your fiance, so do what makes you both the happiest! Guests will be excited either way to help share in the love of your wedding day!